Five Things We'll Miss About "La Luna Sangre"
March 2, 2018

INSIDESHOWBIZ.PH TEAM
The fantaserye La Luna Sangre will be having its last episode tonight! The serye has been a milestone for Philippine television and for love team KathNiel. It showed that Filipinos can make a show based on horror and fantasy with upgraded effects and story (it continued the previous Lobo and Imortal series). It also showed that KathNiel can portray characters in this horror-fantasy genre, and not just characters who are "normal people" (we all know that they've been there, done that!).
Related: Kathniel Debuts in La Luna Sangre
To explain the story of LLS as basically as possible: It starts with a prophecy of the Blood Moon. A prophecy has been made that the child of the most powerful vampire and a chosen wolf will end the line of the vampire with the cursed ink. Thus, Mateo (John Lloyd Cruz), Lia (Angel Locsin), and Malia (Kathryn Bernardo) are living normal lives as mortals in their province but Sandrino, the evil vampire (Richard Gutierrez) still orders them killed to prevent the prophecy. Malia's parents die, but she survives, unbeknown to Sandrino. Many years later, she spends most of her life in hiding and doing her best to find and kill Sandrino and the rest of his evil vampires. It is during her mission as a 21-year-old hunter of evil vampires and also as she waits for her full powers to emerge, that she meets Tristan (Daniel Padilla). Tristan also wants to destroy Sandrino and the rest of the evil vampires because his dad was also killed by them. This is still a love team serye so as the wars of the wolves and vampires go on, yes, Tristan and Malia fall in love. 

Here are some things we'll miss about this serye as well as highlights worth remembering as we look back at the journey that has been La Luna Sangre:
1. How Kathniel has grown as a love team and them portraying creatures that are not of this world
Who can forget Mio, Malia's boyish alter ego that she used in order to hide from her enemies? Mio was the most boyish reincarnation of Kathryn Bernardo in her long-running career so far) and she played the role unflinchingly and determinedly, making a lot of people admire her. She showed that she wasn't conscious about her looks and made sure that she delivered the role as convincingly as she could. Of course, a more gorgeous and sophisticated Kathryn emerged after she shed off the Mio persona and returned to being Malia (Kathryn in sexy black lace!), and this also showed how the 21-year-old actress has grown in many ways. Aside from the sexiness that she displayed, she also showed admirable dedication to her role as an actress.
Kathryn also reaped praise for her acting in certain scenes especially when she had to act as intense as possible in her Chosen One role who must defeat the evil vampire. Kathryn proved bashers wrong that she's a pabebe actress and showed them what a serious actress she really is.
As for Daniel, we already know he can play dramatic characters who lean towards being rough just like Tristan in the past. He has reaped praise as well too of course, even when his character had to transition to being a vampire.
2. The upgraded effects, awesome fight scenes, and casts' top-notch acting
While local shows and films' effects still aren't of Hollywood level, LLS still showed an upgrade. Just look at the CGI used for the effects of the wolves, vampires, and the various fight scenes.
We also see how the actors, especially KathNiel trained for their fight scenes and how their practice of martial arts in real life has paid off. Same for the ensemble of characters, who showed impressive action scenes.
And of course, the actors' dramatic prowess wouldn't get lost in all the action and effects. Angel Locsin will always be Angel Locsin for example, as she showed in the intense and touching scene below where she admits to Malia that she is her mother. Kathryn of course, kept up and showed that she can carry this dramatic scene with veteran actress, Angel.
3. The extended cast that displayed the acting prowess and potential of Filipino veteran and newbie actors
The show began with local showbiz heavyweights, John Lloyd Cruz and Angel Locsin portraying Malia's parents. While Angel unfortunately received a lot of negative comments in social media  from fans who were afraid she might steal the thunder from the leads, she held her own and gave a grand return as the glamorous Jacintha who is a lookalike of Malia's mom, Lia (of course, we all know as shown in the video above that she admitted to being Malia's mom). LLS also reunited the GelChard love team in a way, because Angel's former love team partner, Richard Gutierrez plays the major villain Sandrino. So yes, there were fans cheering on some of the romantic tension between the two during their scenes even if their characters wanted to kill each other.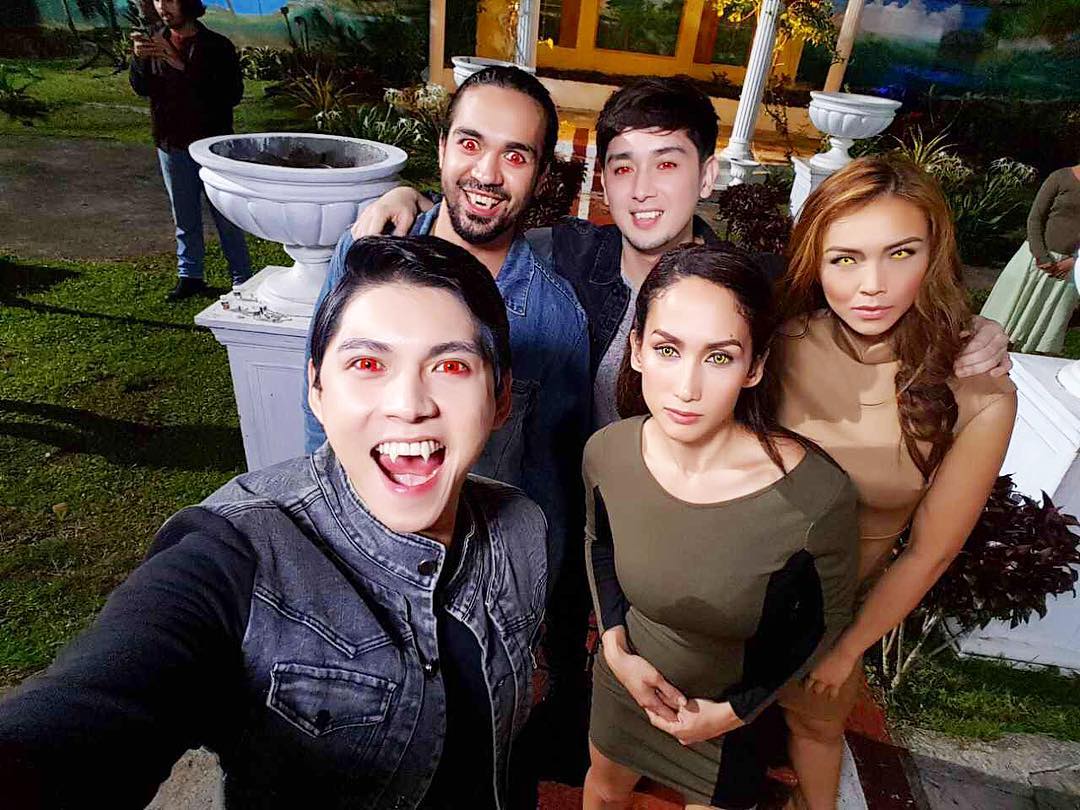 The show also casted 90s actors like Romnick Sarmienta, Victor Neri, Wowie De Guzman, Desiree Del Valle, Joross Gamboa, and even Sabado Nights lady, Ina Raymundo who played various roles. (A lot of them eventually died later on, with LLS being compared to Game of Thrones where characters will inevitably get killed.) Of course, veteran actor, Albert Martinez, who many say "gives birth" to almost every major ABS-CBN primetime teleserye (like he did with The Good Son and Bagani) was in LLS as well! Maricar Reyes-Poon also shone in her role as Moonchaser founder and glamorous vampire, Samantha, who helped fight the vampire allies of Supremo.
As for the newbies with a lot of potential, LLS gave the spotlight to hunky actor newbie, Tony Labrusca, who was known before mostly for his hugot McDonald's commercial opposite Elisse Joson. While he endured the bashing that comes with being a third wheel of one of the most established love teams in the industry, Tony showed what a capable actor he can be as well in LLS, as well as the appeal that he possessed that sent girls shrieking. When it comes to more personal matters, other actors like Miho Niho Nishida and JV Kapunan also bonded through LLS; one can say that their current more-than-friends connection started on this show!
4. MayWard's breakout teleserye roles
It was the first time that breakout love team, MayWard, or Maymay Entrata and Edward Barber, had dramatic roles on TV (Pinoy Big Brother doesn't count of course!). Maymay plays Apple, the half-sister of Tristan or Daniel's character, on LLS. Edward on the other hand is Collin, who is Apple's bodyguard and one of the housekeepers in Apple's home.
Initially, Apple and Collin make the show lighter by showing their comedic timing in their scenes. If you've seen Loving in Tandem, you must know that MayWard can act despite being so fresh in the industry; they've grown more since then, and Maymay especially has shown that she can nail dramatic scenes just like in the scene below where she's crying to Daniel. Bloggers and netizens have reacted by saying that Maymay just pulled their heartstringes and made them tear up because of her convincing acting skills!
Palagi niyo na lang pinapaiyak si Maymay! #LaLunaLastReveal pic.twitter.com/cBZfUiI7As

— Chikkaness Ave (@ChikkanessAve) February 28, 2018
5. The kilig and romance between love teams KathNiel and MayWard
Despite LLS being an action-packed fantaserye where one will get immersed into a rich world full of vampires and wolves, the chemistry especially between love teams KathNiel and MayWard never left. We especially loved it that there was kilig between Kathryn as boyish Mio and Tristan, especially in this scene below where they were forced to get into bed together. Also, just look at how adorable MayWard are in their LLS scenes!
The end
So now a lot of viewers are curious–how will La Luna Sangre end? Will good finally conquer evil? Will Malia and Tristan finally defeat Sandrino in the final battle? Will Sandrino find the good in him and permanently become that way? La Luna Sangre's finale, #LaLunaTheFinalBattle airs tonight on Kapamilya Primetime. If you want to see how Malia and Trista's story will end, you wouldn't dare miss it!
Words by Melissa G. Bagamasbad
Read more:
Angel Locsin Bids Farewell to La Luna Sangre
Angel Locsin Returns to La Luna Sangre
Exclusive: Andrea Brilliantes Wants to be Part of La Luna Sangre
La Luna Sangre Beats My Love From a Star Ratings
MayWard is a Part of La Luna Sangre
Why Kathryn Bernardo is the Perfect Choice for La Luna Sangre's Malia
Team Vampires or Werewolves? La Luna Sangre Dominates Primetime TV Ratings!
Inside Showbiz Weekly